The oil and gas industry is one of the biggest industries in the world, one of the most capital-intensive while being one of the largest contributors to the global economy. While its profits are among the highest in the world, turning natural resources into usable products is expensive. In addition to operating budgets, major capital investments, such as refineries, can cost hundreds of thousands of dollars, and these costs are largely spent on frequent inspections and maintenance.
Oil and gas facilities - both onshore and offshore - require frequent inspections and maintenance to ensure safety and avoid breakdowns. But current inspection methods involve huge costs, significant risks, and shutdowns that result in huge losses.
Fortunately, the advent and introduction of drone technology have taken the entire nature of the oil and gas industry to a much higher level.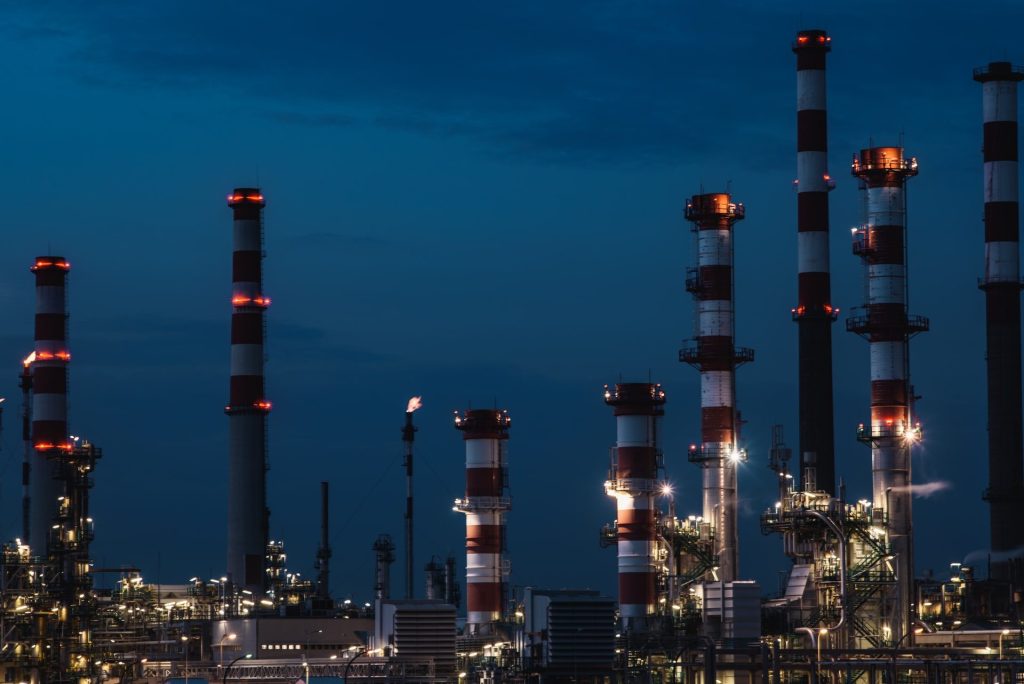 Benefits of drones in oil and gas
Benefits of drones in oil and gas industry
Commercial drones offer several powerful benefits to the oil and gas industry. Most of these fall into three categories. Cost savings improved inspection capabilities and increased safety. Below we have listed specific benefits.
Saving costs and reducing downtimes
Traditionally, companies have relied on manual inspections, which require the deployment of heavy equipment, vehicles, or special aircraft to oil facilities where workers can take the necessary measurements. Yet this method is expensive and slow, in addition to exposing workers to safety hazards. With drones, there is no need to inspect the expensive equipment needed, which alone can save millions of dollars in asset maintenance costs.
In addition, performing drone inspection doesn't need to shut down oil operations. Typically, flare stacks and boiler tanks need to be closed several days in advance for inspection. This is not the case with drones, which can quickly inspect facilities and assets. This means follow-up downtime and more production.
Using drones also allows you to reduce labor costs. A quick drone spot check can reduce inspection time by up to 80% which means you need fewer workers. By reducing dangerous manual work, you'll have lower health insurance premiums and personal protective equipment to pay for. In addition, you'll save on surveyor travel costs.
Increased safety
The oil and gas industry is risky. Flammable materials, toxic fumes, pressurized gases, and a wide variety of industrial equipment can create dangerous situations. Drones improve the overall safety of employees and facilities. In particular, they eliminate the need for workers to put themselves in hazardous places. Inspectors don't have to climb high ladders, operate large cranes or slide down great heights with harnesses, or physically approach hazardous chemicals and dangerous equipment.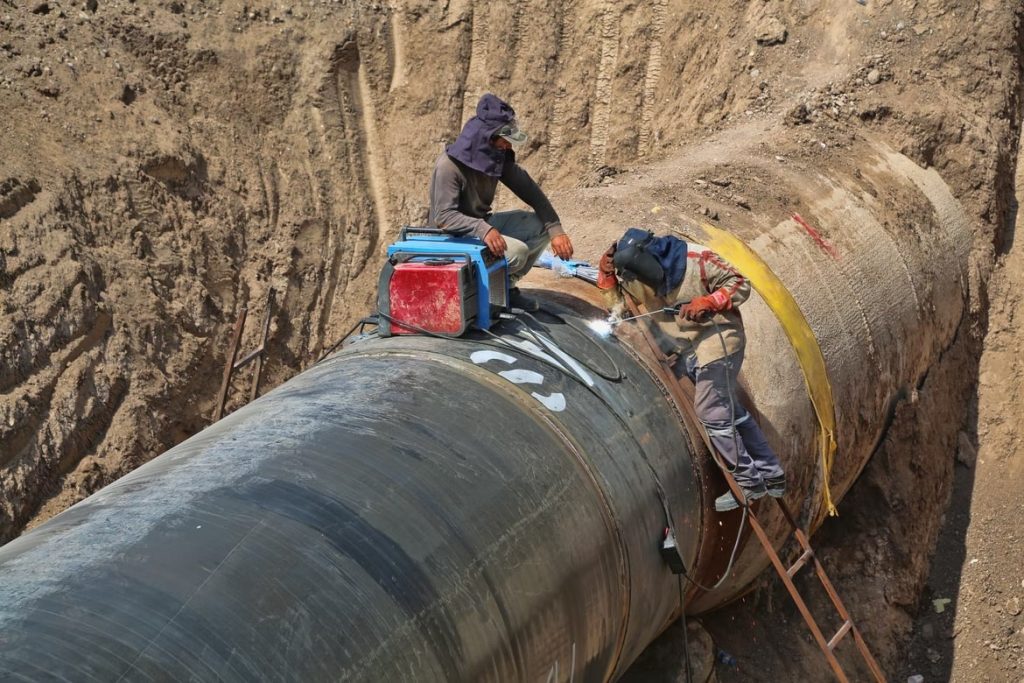 Because it's easier, faster, and cheaper to use drones, companies can conduct regular inspections. This allows for early detection and resolution of potential problems. These problems could lead to structural collapse or other issues that put the lives of workers and others near the facility at risk.
More accurate data collection
Advanced sensors and technologies help increase the scope and value of data collected by drones. This gives them the ability to collect a wide range of data, find information invisible to the naked eye, and even flag potential problems that humans may have missed. Additionally, even airplanes and helicopters cannot get as close to certain areas as drones can. As a result, drones can identify trends that are undetectable to humans. 
Most importantly, drones allow you to calibrate repetitive tasks with visual machine learning algorithms. This reduces the manual process of configuring flight paths each time you use a drone. Instead, the AI can learn flight paths to perform regular, automated spot checks and collect routine data. Over time, repeating the exact same checks ensures that your data is accurate and precise.
Applications of drones in the oil and gas industry
Applications of drones in the oil and gas industry
The use of drones in the oil and gas industry began as a way to remotely monitor and surveillance assets during routine operations and emergencies. As more and more commercial drone manufacturers work closely with companies around the world, making more customized applications are available for industrial use.
Remote monitoring and surveillance
In the oil and gas industry, drones are primarily used for day and night surveillance patrols. This includes remote inspection of infrastructure, equipment, cruise ships, and trucks as well as other assets. With the 360-degree view of a drone, you can visualize the operational status of extraction, production conditions, leak checks, and monitor encroachment on pipelines, railroads, and other valuable company property.
In addition, drone surveillance is now becoming a reality for effective inspections of fully automated offshore oil and gas rigs.
Inspection and predictive maintenance
Drones can be customized to carry sensors with different capabilities to inspect oil and gas assets for defects or flaws at close range. Using specialized sensors, drones can detect gas leaks, oil spills, and how far they have spread. Drones can also be used to conduct comprehensive inspections and safety audits of pipeline infrastructure to assist with pipeline failure investigations. In addition, drones fitted with specialized cameras and payloads can be used to conduct periodic inspection activities, such as checking the structural integrity of pipelines and the condition of compressor stations to pre-empt maintenance issues and damage.
Methane management
Oil and gas companies are under increasing environmental and social pressure to be more environmentally conscious in their operations, and many have turned to unmanned aircraft for a comprehensive methane solution. Drones for environmental monitoring can effectively conduct regular and consistent surveys of facilities and equipment to target specific gases and quantify emissions.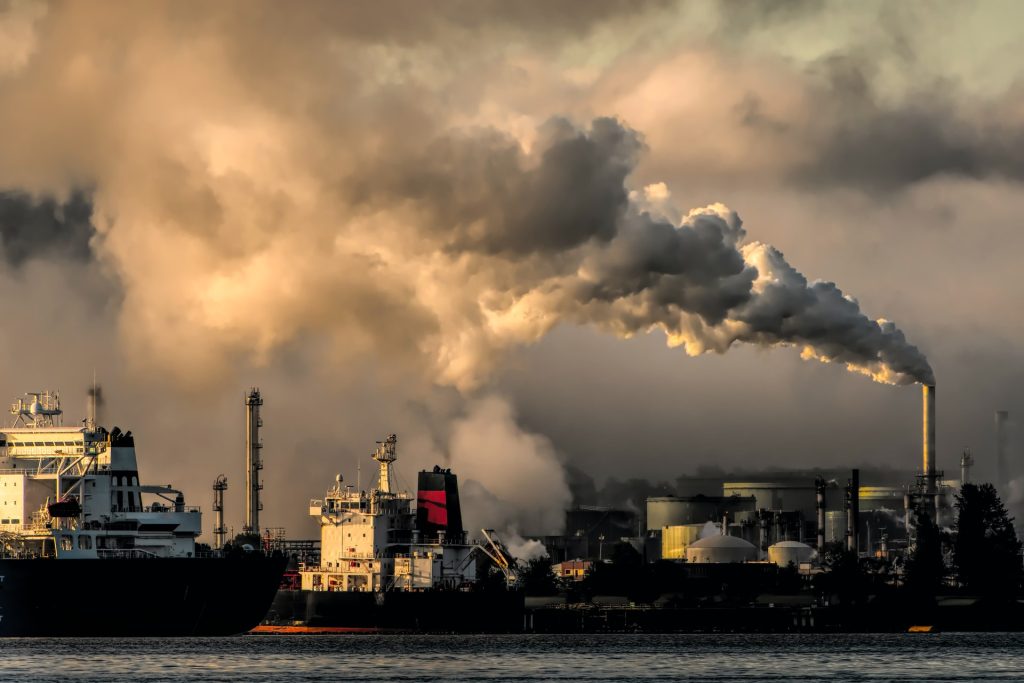 Emergency response
Using drones for emergency response can help authorities conduct damage assessments and deliver essential equipment and emergency medical supplies. Real-time drone imagery and video analysis can also help first responders get a more complete picture of an oil spill or fire incident. Drones equipped with special water hoses can spray firefighting foam in the event of a fire. Insurance companies can also use drone technology to verify losses when settling insurance claims.
Transport of material
Logistics drones offer a unique proposition for lifting and transporting equipment and materials to aid in construction activities in challenging terrain. They can also be used to drop emergency supplies to isolated disaster areas and transport goods to mountainous construction sites in emergencies.
Data outputs
Orthomosaic maps
Orthophotography provides detailed topographic, geomorphological, and feature information of an area, which is indispensable reference data for oil and gas engineering and field construction management.
3D model
The 3D numerical model improves the efficiency of solutions during field development, it is used to evaluate the effectiveness of field development options and oil and gas selection methods, and to predict short and long-term oil and gas production levels.

3D point cloud
Point clouds are collections of three-dimensional coordinates. They have very high detail (millions of points) compared to traditional measurement methods, and they are useful in volume estimation and simulation programs.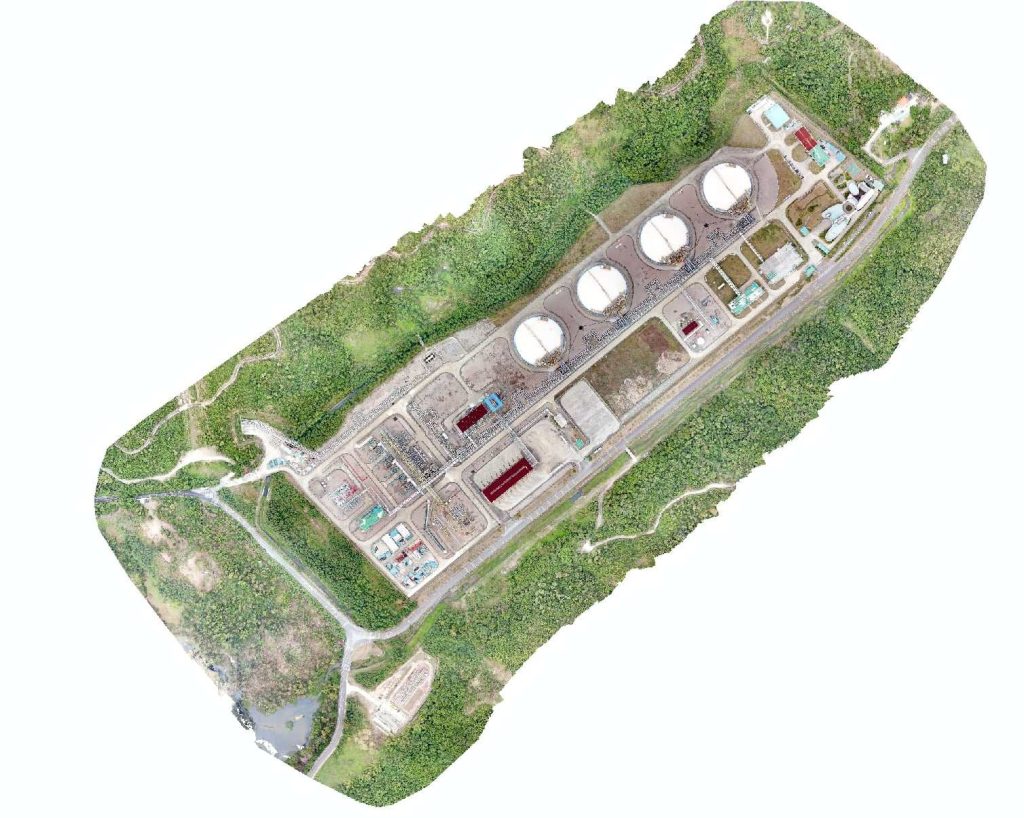 Thermal map
Thermal drone images show the characteristics and location of thermal radiation from different objects on the ground and are used to monitor equipment and pipelines for the presence of methane, hydrocarbons, and other gases.
Best drone for the oil and gas industry
Best drone for the oil and gas industry
Before implementing a UAV project, it is crucial to choose the right type of aircraft for the job. JOUAV drones are designed especially for the oil and gas industry, which can take payloads with different functions and weights.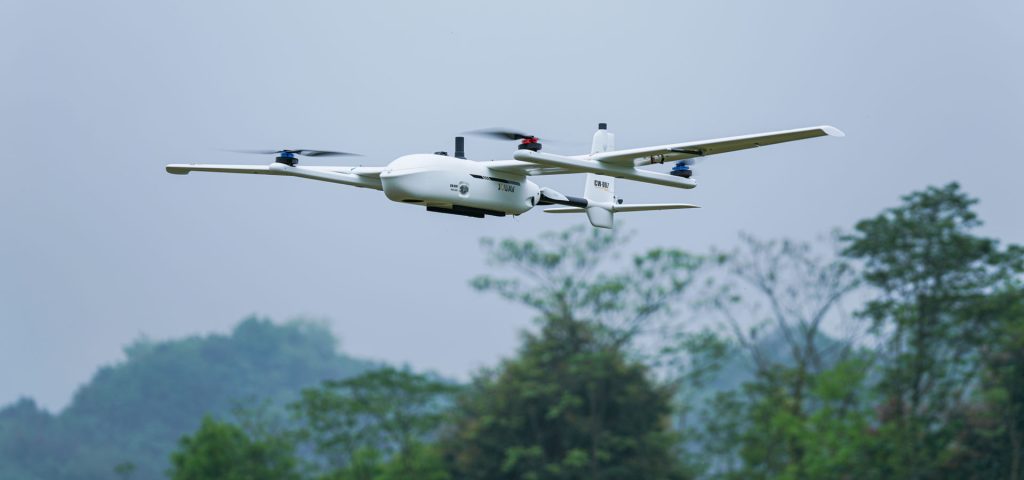 Vertical take-off and landing (VTOL)
JOUAV Vertical take-off and land drones combine the capabilities of a helicopter with those of a fixed-wing drone. All of this is achieved through an innovative design that allows takeoff, landing, and hovering flight in helicopter mode and cruise flight in fixed-wing configuration. The VTOL drone can take off and land everywhere, including confined forest areas, cliffs, slight slopes, moving cars, and boats.
61.0 megapixels/down to 1cm (0.4")
JOUAV's flight control system combines RTK and PPK. RTK is mainly used for positioning the UAV during takeoff and landing to achieve precise takeoff and landing of the aircraft while PPK is used for post-processing of the data collected by the drone. Equipped with a 61 MP full-frame camera, JOUAV RTK drones deliver best-in-class absolute horizontal accuracy down to 1 cm (0.4 in) and verticle accuracy down to 3cm (1.18 in) without GCPs.
200km coverage with one flight/Max Payload 20KG
The high coverage of JOUAV drones makes them suitable for mapping large projects. For large infrastructures like oil and gas pipelines, refineries, and railway tracks, the JOUAV has almost three times the coverage of traditional fixed-wing drones and about 15 to 20 times that of multi-rotor drones.
Depending on the mission requirements, JOUAV heavy lift drones weigh around 0.8-20KG and can carry ortho cameras, oblique cameras, gimbal cameras, multispectral cameras, etc. They support modular switching of mission payloads, truly achieving multi-purpose use.
Good performance in harsh environments and extreme weather
JOUAV drones perform well at high altitudes of 4500m and have a practical lift of no less than 6500m. The drones offer class 6 wind resistance and remain stable in winds of 25 to 31 mph. In other harsh environments, such as coastal areas with high salt and humidity, hot and dry deserts, and cold polar regions, JOUAV UAVs can cope with them all excellently.
Real applications of drones for oil and gas
Real applications of drones for oil and gas
JOUAV has collaborated with many oil and gas companies, so let's see how our drones perform in real applications:
Tarim pipeline inspection
The Tarim Basin is located in northern Xinjiang, China, and is known as the third-largest oil field in China. In the past, pipeline inspections relied on workers to monitor pipelines on foot with instruments on their backs. 
But as oilfield production continues to expand, personnel are too inefficient in inspecting and maintaining pipelines distributed in remote areas and may be exposed to safety risks. Using the JOUAV CW-30D, they have reduced pipeline maintenance time and maintenance costs by 90%.
"CW-30D allows us to see in real-time whether there are geological disasters near the pipeline, whether the pipeline and fiber optic cable are exposed and damaged, and whether the pipeline appurtenances are abnormal. This greatly reduces the failure rate and theft rate of pipelines." Tim Luo said, Superintendent of Technical Services at Taklamakan Oil Project.
Building smart plants for China's oil and gas refineries
In smart city management, China's oil and gas refineries plan to digitally model and process the refineries, infrastructure, roads, and services in the target area to facilitate the control of areas such as depots, energy, material flow, logistics, transportation, etc. The company used the CW-20 to collect 3D modeling images of the factory.
"Previously, the manual modeling method took one to two months to complete a small and medium-sized refinery modeling work, through the UAV oblique imagery modeling method can be completed in only three to five days, effectively improving the efficiency of 3D model data collection," said John Wang.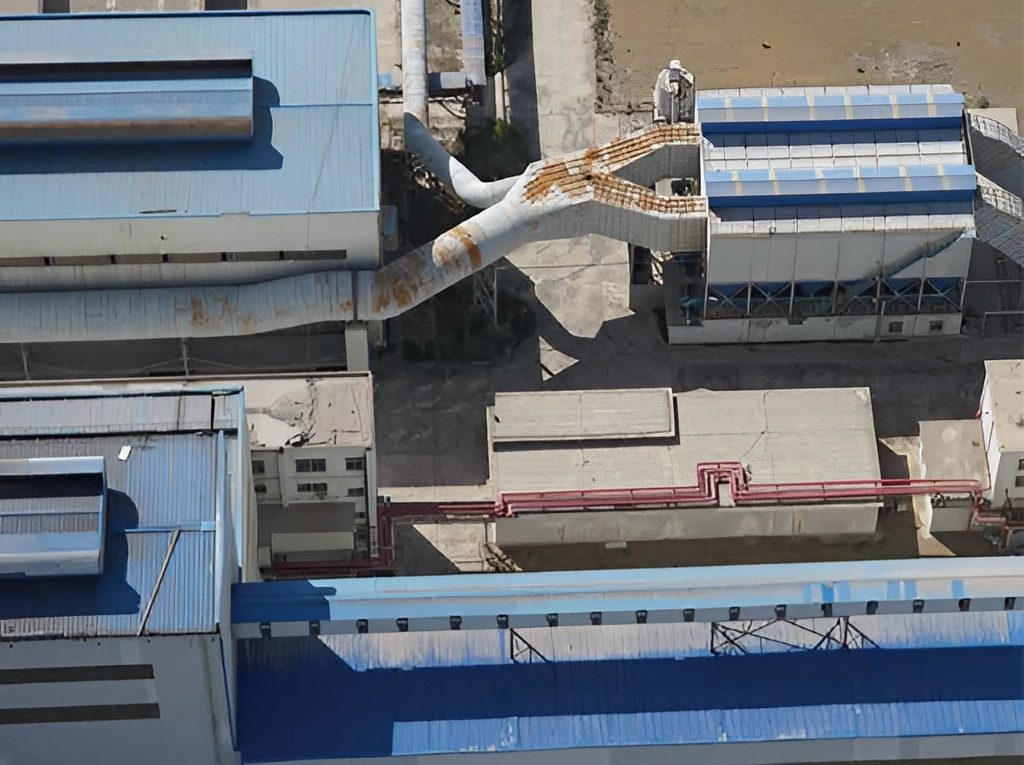 Inspecting 8,200 km of Pipeline for IMWNGC
Inner Mongolia Western Natural Gas Co., Ltd. (IMWNGC), a Chinese energy company, used to inspect their pipelines with helicopters, but the high costs made regular inspections almost impossible. They decided to use JOUAV's CW-25E VTOL UAV for pipeline inspection instead, along with a CA-103 aerial camera, an MG-120E gimbal camera, and the JoCloud cloud platform.
IMWNGC established a UAV pipeline inspection team consisting of seven people, who received formal training from JOUAV. They use JoCloud to design the route and takeoff and landing locations for all CW-25E missions, and the CW-25E with a 61MP CA-103 full-frame camera to conduct periodic inspections of the pipeline. JoCloud's AI and image vision technology automatically analyze and manage the massive amount of drone inspection data, reducing the workload of manual data analysis and improving the efficiency of data processing. Learn more about how IMWNGC used CW-25E to inspect gas pipelines.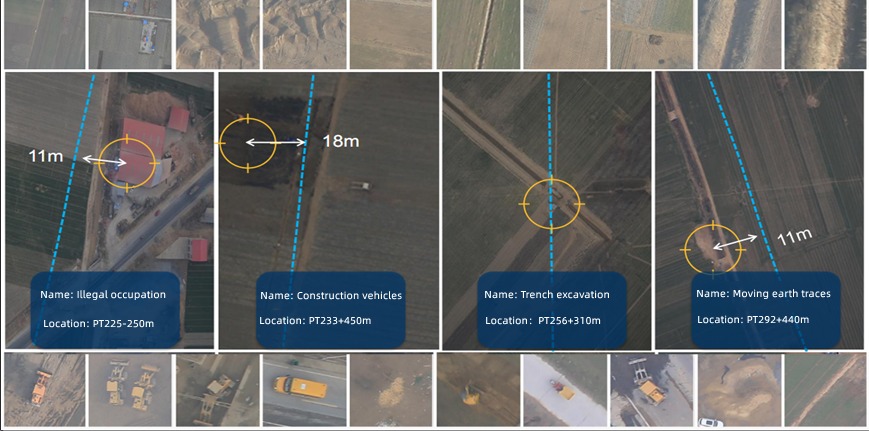 JoCloud's Intelligent Identification of Pipeline Risks